Dream Theater
Dream Theater's debut studio album was 1989's When Dream and Day Unite, which would earn the group comparisons to well-known progressive rock bands such as Rush and Queensrÿche. Unfortunately, Mechanic was unable to fulfill many financial promises made to Dream Theater prior to signing their contract, so the promotional tour for the album consisted of just five concerts. The first show was at Sundance in Bay Shore, New York, opening for the classic rock trio Zebra. After the fourth show, Dominici was fired due to creative differences. It would be two years before the band selected a replacement vocalist.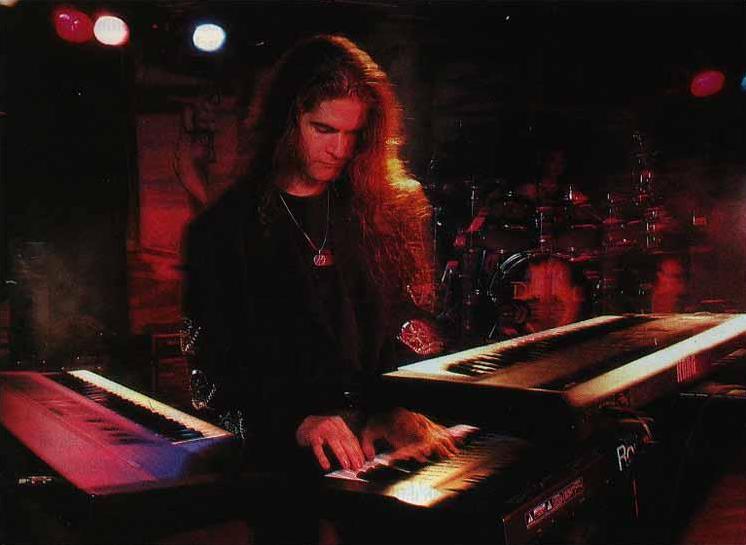 In its search for a singer, Dream Theater auditioned over 200 people before settling on James LaBrie of the Canadian glam metal band, Winter Rose. After signing a seven-album deal with ATCO Records, a division of Elektra Records, the band's breakthrough came in 1992 with the album, Images and Words. It featured the band's highest-charting single to date, "Pull Me Under," which included lyrics by Moore and reached #10 on the Billboard Mainstream Rock Tracks chart. A video for the song saw heavy rotation on MTV, and the record earned gold record certification in the U.S. and platinum status in Japan.
In 1994, the band released its third studio album, Awake, which was its highest-charting album with Moore, peaking at #32 on the Billboard charts. The album has been viewed by some as Dream Theater's darkest work mainly due to lyrical content with many of the songs dealing with internal conflicts. It also contained Moore's signature song, a haunting piano-driven ballad called "Space-Dye Vest" that describes a heartbroken man flipping through a magazine and falling in love with a stranger modeling a vest. The song, which is considered by some fans to be the magnum opus of Moore's career, was not performed live by Dream Theater until 2014 – a full 20 years after the song's release.

Shortly before Awake was mixed, Moore announced that he wished to concentrate entirely on his own musical interests and would be quitting Dream Theater. In a press release on Aug. 22, 1994, he stated: "It came to a point where my views were so different from the rest of the band that we were having trouble relating to each other's ideas. At the same time, I was finding a great deal of fulfillment writing and recording my own material. Eventually, this became more important to me than anything." The band ultimately tapped Derek Sherinian as the band's new keyboardist, and later replaced Sherinian with Jordan Rudess in 1999.