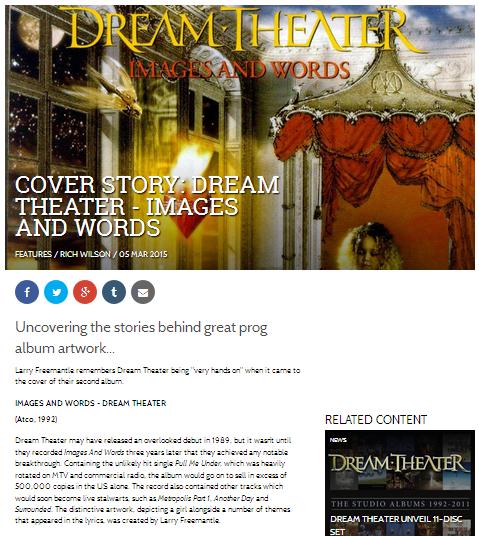 Artist for Dream Theater's Images and Words album gives insight into the cover's creation


March 5, 2015 -
Dream Theater was "very hands on" in creating the cover artwork for the band's 1992 breakthrough album Images and Words, according to an article posted online today by PROG magazine.


Larry Freemantle, the artist for the iconic album, said he was assigned the project through Elektra Records and he tried to make the cover compositionally look like an "old painting" from a design point of view.
"I remember I met with the band and we sat down and went through everything," Freemantle said in the article, which was written by Rich Wilson. "They were very hands on in the early days. John Myung was probably the key person I met along with John Petrucci. Kevin Moore and Mike Portnoy were also very much involved too. They were very specific about what should be where on the sleeve. It was just a matter of trying to piece it together. So they wanted a little girl, they wanted the bird flying and that style of room. It was a collage of engravings and illustrations which I thought was pretty cool. The engravings and the room were from old engravings book that we spliced together, and the sky was worked into it too. As for the font, I had that created and hired a calligrapher, John Stevens, as I wanted it to be personalised and to look like a type font."
Freemantle also went on to discuss how it was to work with the band, calling them very "down to earth."
"They were easy going and it's always easier to work with a new band than someone who has been around for a long time," he said. "In the beginning they were so happy just to be doing some of the stuff we were doing, and it wasn't a big budget job. They were a very serious and professional band right from the start. A lot of bands are like the deer in the headlights when it comes to ideas so their attitude was quite unusual. They were always great when they came to the table as they always had ideas."
To read the full piece, click here: http://prog.teamrock.com/features/2015-03-05/cover-story-dream-theater-images-and-words