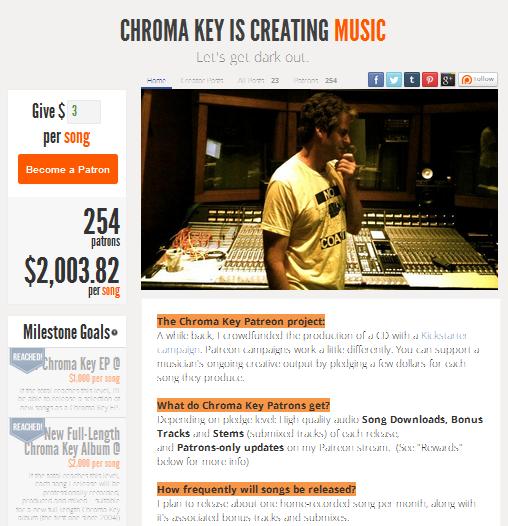 New full-length Chroma Key album to come as pledges hit $2,000 per song


Nov. 20, 2015 - Good news, Chroma Key fans: A new full-length album is officially coming!

The Chroma Key Patreon campaign launched last month by Kevin Moore has reached the second and final milestone of $2,000 per song, meaning that a new full-length album will be professionally recorded, produced and mixed.
It will be the first music released by Moore under the Chroma Key name since 2004's Graveyard Mountain Home.
To reach the full-length album milestone, a total of 254 patrons donated money over the past three-and-a-half weeks. The first milestone of $1,000 per song was reached early on in the pledging process, meaning that Moore would be releasing a selection of new songs as a Chroma Key EP.
But the fans didn't stop there. They wanted a full-length album. And, by golly, they made it happen. Now, we wait. But first, congratulations to all the Chroma Key fans worldwide for making this album happen!
For more information on the Chroma Key Patreon project or to make a pledge, click here:
https://www.patreon.com/chromakey?ty=h