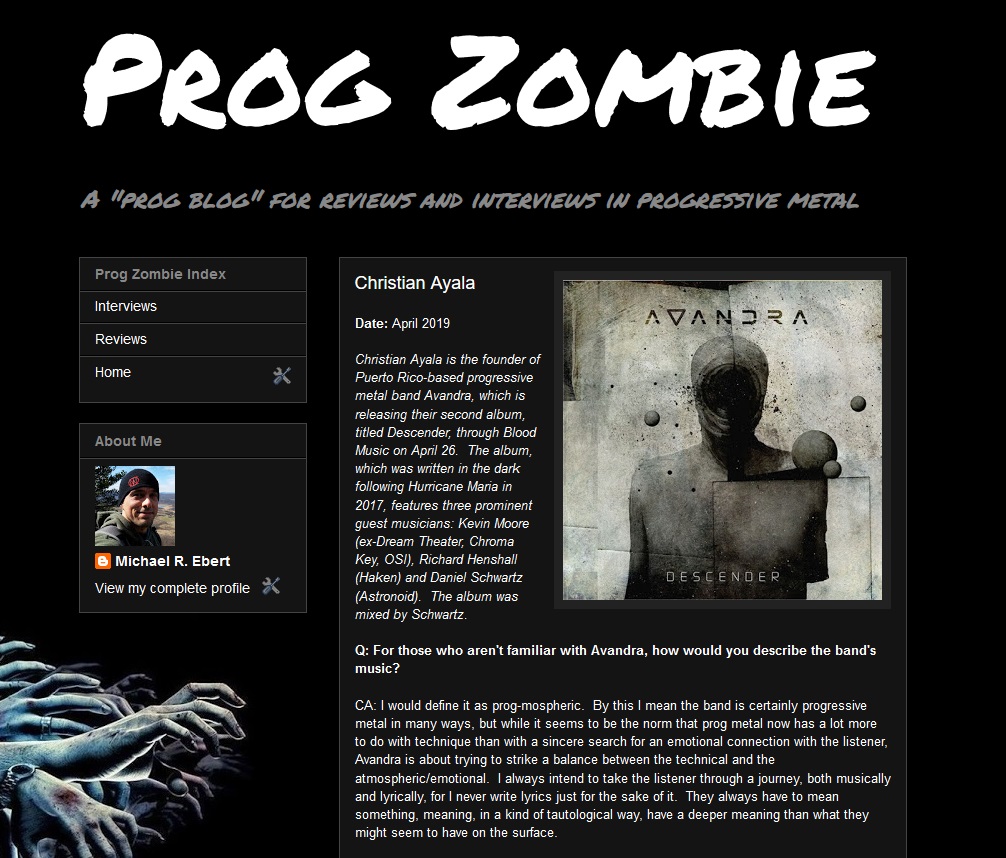 Avandra's Christian Ayala discusses Moore's work on "Derelict Minds"
April 11, 2019 - Avandra vocalist/guitarist Christian Ayala talked about Kevin Moore's contribution to the band's new album in an interview with the website Prog Zombie.
Ayala, who is the founder of the Puerto Rico-based progressive metal band, discussed Moore's solo in "Derelict Minds," which is the seventh track from the band's forthcoming album, Descender. The album will be released through Blood Music on April 26.
"I feel his solo adds a lot of depth and feel to the part where he plays it," Ayala said. "Makes it more interesting. Kevin has a good ear (obviously) for where to phrase what and what sound to use when doing so, and he did not disappoint. Working with him was quite easy. We emailed each other a couple times. He nailed it on the first try, so there wasn't too much back and forth between us in that respect. All in all, everything flowed well."
Ayala also shared how Moore's music has inspired him through the years.
"To say I'm a fan of Kevin's is an understatement, to be honest," Ayala said. "He has shaped my musical creativity in a way that few others have. As mainly a guitar player, one would think that [John] Petrucci had the biggest influence on me out of all the members of Dream Theater, but it was actually Kevin who inspired m the most. He is what made Dream Theater the mystical experience I had when I was a young kid and first hearing the, at the age of 14, granted, the first album I ever listened to from them was Falling Into Infinity, but it wasn't until I heard Images and Words that I would never be the same again. After I learned of his departure (he had already done so like five years before I had my first DT experience), I kept up with is work. Even though I like OSI, Chroma Key was what continued the KM experience for me, especially Dead Air For Radios and You Go Now. It was like hearing the ambiance and emotion I loved about Dream Theater, but stripped from its cumbersome technical approaches."
Other guest musicians on Avandra's Descender album are Richard Henshall of Haken and Daniel Schwartz of Astronoid, who also mixed the album. Avandra's other band members are Adrián Arroyo on drums, Luis Javier Rivera on guitars, and Gabriel Alejandro Rodriguez on bass.
To read the full interview, click here: https://progzombie.blogspot.com/p/interview-with-christian-ayala-april-11_10.html
"Drift" comes with cover artwork created by Jan Tomic and will be released as special edition CD, black LP + CD & digital download. Here is the album's track-listing:
will be released as special edition CD, black LP + CD & digital download.