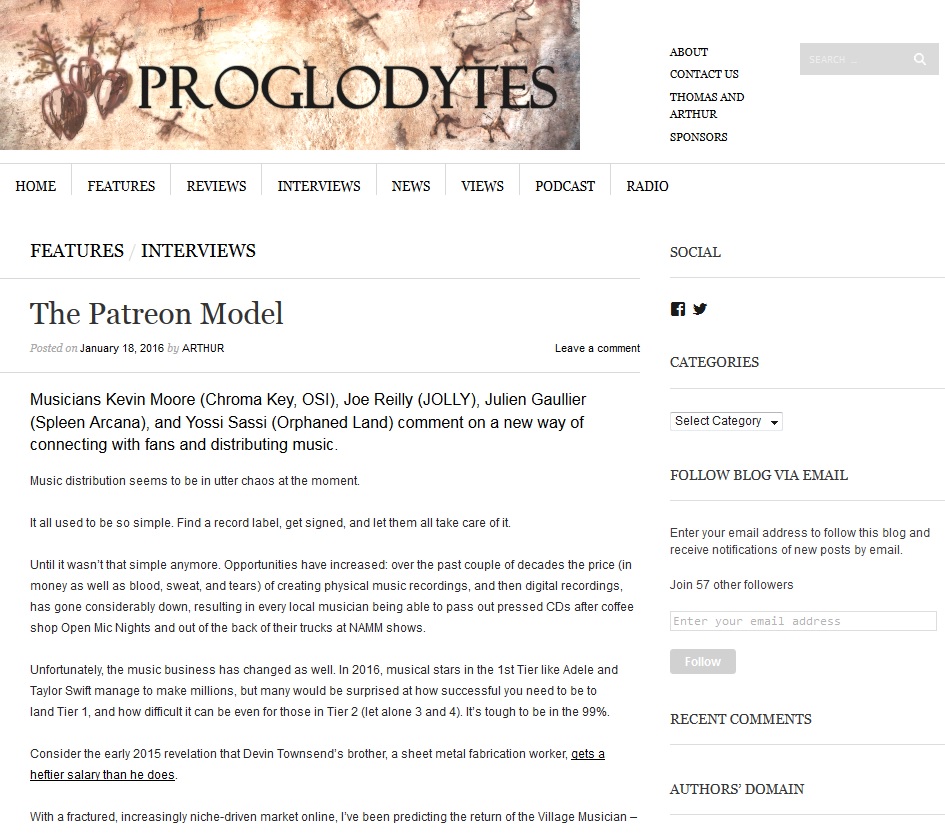 Moore referenced in Patreon-themed article on new prog blog Proglodytes


Jan. 18, 2016 -
Kevin Moore is among a handful of musicians mentioned in an article posted today about the crowdfunding platform Patreon.
The article, which appears on the new prog blog Proglodytes, explores the increasing popularity of Patreon, which Moore is using to fund the release of his first music under the Chroma Key name since 2004's Graveyard Mountain Home.
"I didn't pay this site much attention until I noticed one of my favorite artists, Kevin Moore, using Patreon to launch Chroma Key after a decade-or-so absence (he has of course been releasing music in OSI in the meantime)," wrote the article's author Arthur Hatton, whose username is arthur42 on The Mooreatorium Forum. "Unable to contain my enthusiasm, I chose to pledge the full amount to show my still-raging love for Chroma Key."
In the story, Moore shares his thoughts about using Patreon over the past few months. His first song, a five-minute demo titled "Mission," was released last month through Patreon
with plans to release about one home-recorded song per month, along with its associated bonus tracks and submixes, he has said
.
"Definitely feels too early to come to any conclusions about the Patreon approach and how it will influence my music," Moore said in the article. "I know Spotify isn't the answer.
:)
"
To read Proglodyte's piece citing Moore, click here:
http://proglodytes.com/2016/01/18/the-patreon-model/