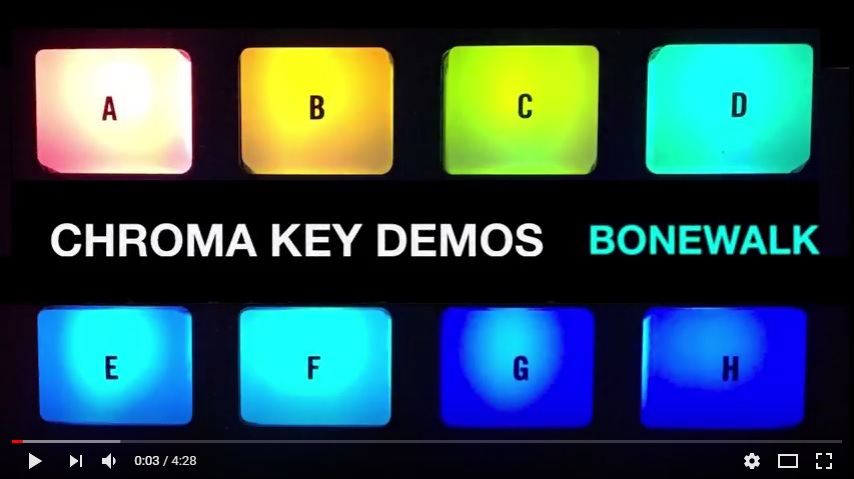 Moore posts YouTube video for Chroma Key demo, "Bonewalk"
Nov. 14
, 2017 - Kevin Moore has shared a third video for one of his new Chroma Key demo songs.


The keyboardist posted a 4:28 video on YouTube yesterday for "Bonewalk," which is one of six demo songs released so far through the Chroma Key Patreon campaign. The demo was originally shared with fans in December 2016.
"I released 'Bonewalk' to you guys on Patreon almost a year ago, December 17, 2016!" Moore said in a post on Patreon. "Many thanks to patron Kim Arthur for the video, which just incorporates a subtle sound wave animation over the title card. It's up on YouTube now - please share! :)"
Moore has previously stated that "Bonewalk" was mastered by Jens Bogren of Fascination Street Studios in Sweden, who also mastered and mixed Fates Warning's most recent album, Theories of Flight. He also shared some insight into how the song was created when he first posted it last year.

"It started with a sample of some spontaneous chanting my brother Patrick captured at an 'ecstatic dance' gathering he organized in Costa Rica," Moore said. "I started messing with some Rhodes piano riffs to accompany the chanting loop, and built the song up from there. For the verses, I tracked the vocals and Rhodes part at the same time, which is new for me. Later I replaced the improvised vocals with words that made (a little) more sense."
The first YouTube video for one of Moore's Chroma Key demo songs went to "Mission," which was the first demo released through his Chroma Key Patreon campaign. That YouTube version came a few weeks after the keyboardist polled his Patreon patrons about making the demo releases available to stream online to help promote the new music, with an overwhelming majority of the voters in support of the idea. He also posted a YouTube video for the demo, "4-Track," in September.

So far, Moore has released six demo songs through the Chroma Key Patreon campaign, which launched in 2015 and invited fans to pledge an amount of their choosing to help fund new music. There have also been seven bonus tracks shared with fans.

To view the video for "Bonewalk," click here: https://www.youtube.com/watch?v=4yYMsdz5WRM

"Drift" comes with cover artwork created by Jan Tomic and will be released as special edition CD, black LP + CD & digital download. Here is the album's track-listing:
will be released as special edition CD, black LP + CD & digital download.