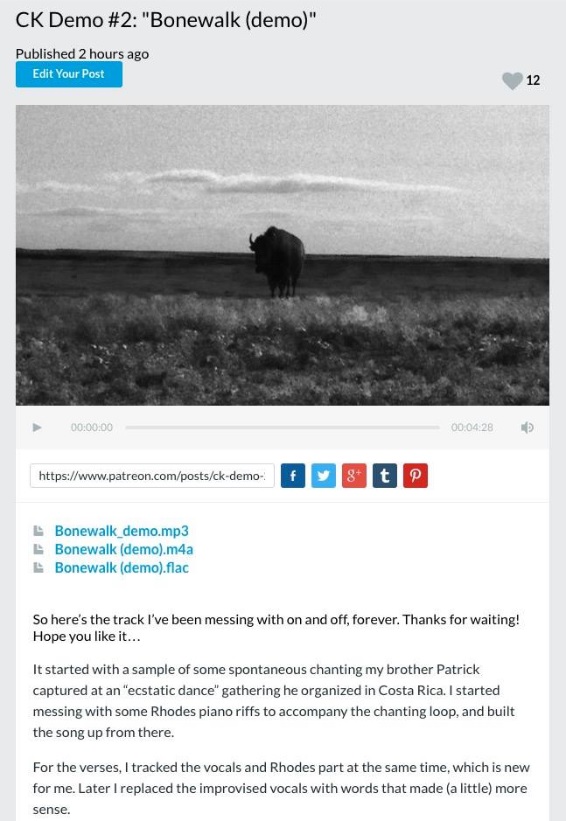 Moore releases second Chroma Key demo, titled "Bonewalk," on Patreon



Dec. 19, 2016 - For the second consecutive year, Kevin Moore has given his fans a new song just in time for the holidays.

Moore has released a second demo through his Chroma Key Patreon campaign,
which launched last year and invited fans to pledge an amount of their choosing to help fund new music.

The 4:28 tune, titled "Bonewalk," was mastered by Jens Bogren of Fascination Street Studios in Sweden, who also mastered and mixed Fates Warning's new album, Theories of Flight.

"It started with a sample of some spontaneous chanting my brother Patrick captured at an 'ecstatic dance' gathering he organized in Costa Rica," Moore wrote on Patreon. "I started messing with some Rhodes piano riffs to accompany the chanting loop, and built the song up from there. For the verses, I tracked the vocals and Rhodes part at the same time, which is new for me. Later I replaced the improvised vocals with words that made (a little) more sense."
The demo is available in MP3, FLAC, and Apple Lossless (M4A) versions, with a bonus track for Chroma Key Enablers and multi-track stems for Chroma Key Collaborators to come.
To visit the Chroma Key Patreon page, click here: https://www.patreon.com/chromakey?ty=h