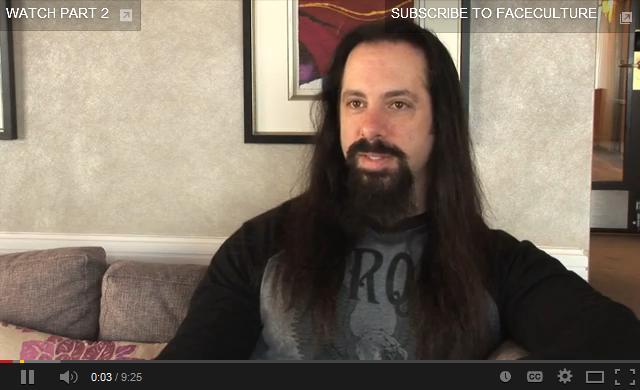 Petrucci mentions Moore in interview about early days of Dream Theater

March 24, 2014 - A new interview with Dream Theater guitarist John Petrucci
dug up a few old memories involving t

he band's founding keyboardist Kevin Moore.

A Netherlands-based music website, titled FaceCulture.com, posted a video interview online three days ago with Petrucci that was conducted during the European leg of the band's

"Along For the Ride" tour. In the interview, Petrucci recalls the first riff he ever played on guitar, which incidentally took place at Moore's house.


"The first riff I ever played was 'Hey Hey, My My' – Neil Young," Petrucci said in the interview, which was conducted on Feb. 17. "Very simple guitar part. I was hanging out at a friend's house – actually at Kevin Moore, our first keyboard player, his house. And there was a bunch of guys jamming, and I didn't really play. I was pretty young. And they were like – 'Hey, play this riff, it's really easy.' And I played that." Petrucci continued: "Myself, Kevin and John, we grew up together in our hometown on Long Island, and we were among a large community of musicians. A lot of kids played. I don't know what it was, but for some reason there were tons of bands. There were always parties to go and play, and jam, and jam sessions. It was a big part of how I developed my skills as a guitar player. But even with all those bands and all those people, myself and Kevin and John, we kind of just slowly rose up as being the known guys – the known band…because we were like totally into it. We practiced for six hours a day. We were just completely obsessed. There were other guys that were really good. But I don't think they were as hardcore obsessed about it as we were."
Of listening to Dream Theater's 1989 debut album When Dream and Day Unite, Petrucci said: "I hear young guys that didn't know what they were doing. We went into the studio – we were really young. It was our first album. We had like no time to do it, no experience. The amp I used wasn't even mine. The guitars, I borrowed. We had fun." He continued: "It just seems like that of youth – not as developed as it is now. I think there's some good moments in the songs, and I think that we certainly established the style that would take us through the rest of our career – you know, sort of that progressive metal sound was absolutely established on the first record. But you can definitely hear the immaturity as musicians, as players, as writers. And personally, I think it's gotten better throughout the years.
Of the band's breakthrough album Images and Words in 1992, Petrucci said: "Images and Words, I feel like we made a major leap. We had a different vocalist – James really ended up being the big sound of the band vocally and has been with us ever since. So that was a huge difference. The time that we spent preparing for that album and writing and auditioning singers and being in that sort of limbo stage made us really hungry to want to do well and get another shot at it. And so I think it has a bit more maturity. I think it was produced well. It sounds better. It's mixed better."
To view the full interview, click here: http://www.youtube.com/watch?v=llAkozqrxwI
m… I don't really have plans on doing that. I mean, you never know. I'm not sure how great of a live song that'd be. It's obviously very mellow and spacey and atmospheric. I mean, it could be a cool moment in the set. It'd certainly be rewarding to people that have wanted to hear that. It's not the first song I'd go to when thinking of what to play in a live show.
You'd need to follow it with something that's really up!
Yeah definitely! It might depress the audience! But it's a cool song. I'm sure eventually we will but I haven't thought too much about that at this moment.
- See more at: http://iheartguitarblog.com/2013/09/petrucci.html#sthash.xUzJnSrH.dpuf