Early Days/Majesty
Kevin Moore was born on May 26, 1967, and grew up in Kings Park, a suburb of Long Island, New York. He started learning the piano at the age of four and wrote his first song by the age of 12. As a teen, Moore played with two short-lived bands – Crystalbeast and Sidewinder – before joining his childhood friend and guitarist John Petrucci in a band called Centurion.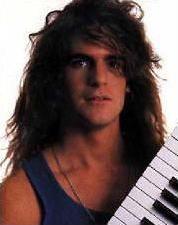 After graduating high school in 1985, Moore enrolled at SUNY Fredonia in upstate New York to study classical music. Following one semester of college, Moore was asked by Petrucci to join his new band Majesty – which later became known as Dream Theater – with bassist John Myung. Petrucci and Myung had already recruited fellow Long Islander Mike Portnoy to play drums during their short enrollment at Berklee College of Music in Boston.
Moore played with the band during Christmas break and left college to concentrate on the group full-time that summer, adding keyboard parts to songs that had already been written by the band. After adding former Franke and the Knockouts member Charlie Dominici as the band's vocalist and playing shows around New York, Dream Theater was signed by Mechanic Records in 1988. For additional income, Moore gave private music theory lessons out of his parents' basement.
Dream Theater
Dream Theater's debut studio album was 1989's When Dream and Day Unite, which would earn the group comparisons to well-known progressive rock bands such as Rush and Queensrÿche. Unfortunately, Mechanic was unable to fulfill many financial promises made to Dream Theater prior to signing their contract, so the promotional tour for the album consisted of just five concerts. After the fourth show, Dominici was fired due to creative differences. It would be two years before the band selected a replacement vocalist.
In its search for a singer, Dream Theater auditioned over 200 people before settling on James LaBrie of the Canadian glam metal band, Winter Rose. After signing a seven-album deal with ATCO Records, a division of Elektra Records, the band's breakthrough came in 1992 with the album, Images and Words. It featured the band's highest-charting single to date, "Pull Me Under," which included lyrics by Moore and reached #10 on the Billboard Mainstream Rock Tracks chart. A video for the song saw heavy rotation on MTV, and the record ultimately earned gold record certification in the U.S. and platinum status in Japan.
In 1994, the band released its third studio album, Awake, which was its highest-charting album with Moore, peaking at #32 on the Billboard charts. The album has been viewed by some as Dream Theater's darkest work mainly due to lyrical content with many of the songs dealing with internal conflicts. It also contained Moore's signature song, a haunting piano-driven ballad called "Space-Dye Vest" that describes a heartbroken man flipping through a magazine and falling in love with a stranger modeling a vest. The song, which is considered by some fans to be the magnum opus of Moore's career, was not performed live by Dream Theater until 2014 – a full 20 years after the song's release.

Shortly before Awake was mixed, Moore announced that he wished to concentrate entirely on his own musical interests and would be quitting Dream Theater. In a press release on Aug. 22, 1994, he stated: "It came to a point where my views were so different from the rest of the band that we were having trouble relating to each other's ideas. At the same time, I was finding a great deal of fulfillment writing and recording my own material. Eventually, this became more important to me than anything." Although Dream Theater has since invited him to perform with them in various reunion shows, Moore has said that he prefers to move forward in his career as opposed to looking back.
Chroma Key
After leaving Dream Theater, Moore relocated to New Mexico and started work on a solo album. His first project was a demo cassette called Music Meant To Be Heard, which had songs featuring spoken-word samples from interviews he recorded with strangers during his cross-country travels. Most of the songs were later released in 1999 on a limited-edition CD called This Is A Recording. During these demo days, Moore also contributed keyboard parts to progressive metal band Fates Warning's 1997 album, A Pleasant Shade of Gray, and later on their 2000 album, Disconnected.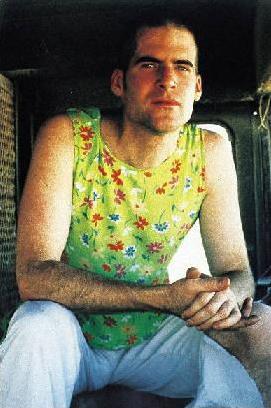 In 1998, Moore released his first solo album, Dead Air For Radios, under the name Chroma Key on his self-created record label, Fight Evil Records. Drummer Mark Zonder and bassist Joey Vera of Fates Warning served as his support musicians for the record. The album featured a dark ambient sound, closer to the music of Peter Gabriel and Tori Amos than the complex and intricate Dream Theater style. In hindsight, Dream Theater fans noticed that Moore had subtly explored the style of composition in "Space-Dye Vest."

In 2000, Moore moved to Los Angeles, where he recorded the digitally-themed album, You Go Now. The lineup for that record was Moore, David Iscove on guitars, and Steve Tushar on loops and programming. During his westcoast stay, Moore briefly attended California Institute of the Arts, where he filmed a humorous documentary titled "Octember Revolution," which depicted an intervention at a gated-community in California. He then moved to Costa Rica, where he appeared on Radio For Peace International, producing a bi-weekly activist radio program. Some of his work there was later released in the Internet-only album, Memory Hole 1.

In 2004, Moore approached his third Chroma Key album by scouring public domain films looking for one that exuded a certain mood, intending to write a pseudo-sound track to it. The film he chose was "Age 13," an educational film from the 1950s, originally for use in public schools. He took the existing film, slowed it to half speed, and let it dictate the moods, textures and running times of the songs that he composed. The resulting album, Graveyard Mountain Home, included a DVD of the movie set to Moore's music.
In 2015, Moore launched the Chroma Key Patreon project inviting fans to pledge a dollar amount of their choosing to help fund new Chroma Key music. If pledging reached $1,000 per song, he would release a selection of new songs as a Chroma Key EP. If pledging reached $2,000 per song, each song would be professionally recorded, produced and mixed – suitable for a full-length Chroma Key album. The pledging ultimately reached the second and final milestone of $2,000 per song. Soon thereafter, Moore began to periodically release new Chroma Key demo songs, along with associated bonus tracks and submixes, to his Patreon patrons. As of the end of 2017, Moore had seven new demo songs through Patreon.

OSI
In 2003, Fates Warning guitarist Jim Matheos asked Moore to collaborate with him on a new project involving Dream Theater drummer Mike Portnoy and Pain of Salvation frontman Daniel Gildenlöw. The band that was formed was OSI, named for the short-lived government agency Office of Strategic Influence. Musically, it can be described as a mixture of Chroma Key's dark, melodic focus with the guitars and heaviness of Fates Warning and Dream Theater. Since Moore and Gildenlöw had taken Matheos' demo ideas in different directions, Matheos eventually tapped Moore to assume vocal duties on the album, Office of Strategic Influence, and Gildenlöw was dropped from the OSI project altogether.
In April 2006, Moore and Matheos released a second OSI album called Free. The album once again featured Portnoy on drums – although this time solely as a session player – as well as Joey Vera of Fates Warning playing the bass parts. Shortly after the album's release, OSI also released an EP, re: free, which included remixes of three Free songs and a video of the album's title track. In the spring of 2006, Moore and Matheos hinted in various interviews to possible tour dates in the support of the album, but nothing ultimately materialized. This band has since said that OSI would most likely remain a studio project.
In April 2009, OSI released their third studio album, Blood, which featured Porcupine Tree drummer Gavin Harrison taking the place of Portnoy. Mikael Åkerfeldt of the Swedish progressive metal band Opeth also appeared as a guest vocalist on one the tracks, while Tim Bowness of British art-pop duo No-Man contributed vocals to a bonus track. To create the album, Matheos said he would typically email song ideas to Moore, who said he "chopped them up" and added various effects. In promotion of the album, the band's website said that "Blood is totally their best album."
In 2010, OSI announced that a fourth studio album was in the works and that the band had departed German-based record label InsideOut Music for Metal Blade Records, the same label used by Fates Warning. Metal Blade initially announced a release date of late 2010, but recording was slowed by Matheos' involvement in Arch/Matheos, a project with Fates Warning's original vocalist John Arch. The eight-track album, titled Fire Make Thunder, was released in 2012 and again recorded by Moore and Matheos "writing and recording alone and sending song ideas back and forth for further elaboration," according to a Metal Blade press release. It featured Harrison on drums again and was mixed at Sound Farm Studio & Recording Environment in Iowa.

Film Soundtracks
Shortly after the release of the first OSI album, Moore relocated to Istanbul and composed the soundtrack to the horror film, "Okul (The School)," which was subsequently released as a solo record titled Ghost Book in 2004. When the directors, the Taylan Brothers, were searching for a musician to score their movie they learned that Moore was in Istanbul. By coincidence, the film was based on a book called "Hayalet Kitap," which contains a reference to the song, "Space Dye-Vest." The author, Dogu Yucel, is also a self-proclaimed Dream Theater and Kevin Moore fan.

In 2006, Moore once again teamed up with Turkish producers for another soundtrack project. The film, "Küçük Kiyamet (The Little Apocalypse)," tells the horrific tale of a Turkish family torn apart by an earthquake. It was based on a short story written by the Taylans with the script being written by Yucel. The film earned critical acclaim from Turkish critics, many of whom listed it as one of the best of 2006. Moore's score, meanwhile, was nominated for a SIYAD Movie Award.

In March 2007, Moore performed a small show at Balo Stage in Istanbul. It was the first time he played Chroma Key and OSI material for fans and was described as a try-out to "play some songs for a local crowd." During an interview with MTV Turkey, he said: "I thought it would be good for the first show to be sort of small and comfortable... and if something goes horribly wrong, it only happens in front of 100 people." Moore also said in the interview that he "would like to do more shows around Turkey, and then in Europe, and then the world," but no further shows materialized. In addition, he announced plans to produce the debut album of Turkish industrial rock band Makine, which was eventually released in early 2010.

In 2010, Moore announced a funding project to manufacture and release the soundtrack he created for "Küçük Kıyamet." If funding reached $3,000, the album – titled Shine – would be released. Fans impressively exceeded the $3,000 pledging threshold in less than 24 hours and surpassed $10,000 overall. In addition to the album itself, Moore made available Shine t-shirts, posters and stickers to fans based on their pledge amount.

Guest Appearances

In addition to appearing on several studio albums with Fates Warning, Moore has appeared on compilation discs and also performed as a guest musician on releases by a variety of bands. In 1998, he teamed up with Steve Tushar for a cover of Metallica's "The Thing That Should Not Be" that appeared on a tribute disc called The Blackest Album, and the same year the duo contributed two tracks to a video-game compilation disc called Sonic Adventure Remix. Moore was also a guest musician on Tushar's Carbon 12 album in 1999, as well as his Oscillate album in 2008.
More recently, Moore has contributed production, vocals or keyboard parts to music created by a number of his fans who contacted him by e-mail. In 2012, he appeared on a track for Italian bassist and composer Alberto Rigoni's Three Wise Monkeys album as well as several tracks for U.S.-based experimental rock band In Progress's North Atlantic Echoes EP. He has also contributed to music for Italy-based progressive psychedelic rock band Chaos Venture's Chaos Venture 1.0 album in 2013, Beirut-based progressive rock musician Amadeus Awad's The Book of Gates album in 2014, and Aquiles Priester & Gustavo Carmo's Our Lives, 13 Years Later... album in 2014.